Soulfood:
The artist making light of still life.
Have you ever looked at a painting and wondered if it was in fact a photograph? Well, the work of Sergei Sogokon, a Ukrainian artist who has settled in Jersey, does the exact opposite.
His photographs are eerily reminiscent of still-life paintings.
Through a delicate use of light and shadows, they bring out the best colours in the subjects, keeping alive the tradition of the Dutch and Flemish Golden Age masters.
But Sergei's first encounter with still-life was anything but artistic. Born in Ukraine, he played ice hockey at school, where it was traditional for all pupils to name their hockey stick.
Sergei opened a dictionary, closed his eyes and pointed randomly at a page. The word 'still-life' appeared by chance and thus became the name of the hockey stick.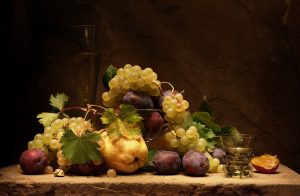 Pictured: Sergei Sogokon's work keeps alive the traditions of the Dutch and Flemish Golden Age masters, but in photography rather than paint.
Shortly after that, Sergei got his first camera and it became an instant companion. But still-life wasn't on his mind. "I thought it was boring, not attractive," Sergei confesses. It wasn't until he moved to the UK with his wife and started travelling in Europe that he found an interest for it.
"I went to the big cities and spent more time in galleries than the pubs! One day I was stuck in Amsterdam and I saw beautiful still-life, it was so detailed. The light was so special! I didn't think it was possible to do the same thing with the camera. It was actually my wife Lara who told me to try and do something."
Sergei quickly discovered how challenging still-life photography is. First, there is the lighting. It has to be just right. While painters can manipulate the light as they wish on the canvas, Sergei finds it harder to bend rays the way he wants. After many trials, he developed a technique, which he describes as "light painting". In the complete darkness of his studio, with torches on his fingers, he directs light as he wishes.
But finding the right subjects has also proved tricky. "It was easy for the painters," says Sergei. "If you imagine something, you can paint it. I have to have it to photograph it. I can sometimes look for items for weeks."
The search for the perfect pumpkin or flower has put Sergei in some interesting situations since he moved to Jersey, which he describes as "a small paradise". "I needed a lemon with leaves and I couldn't find any. One of my friends told me he had found some in a shop. I jumped in the car and went there. I was looking at them – the shape, the leaves – and I lost track of time. A manager came to me, she must have thought I was crazy or strange, and I had to explain what I was doing.
"I also once flew with two pheasants in my bag and had to explain to Customs Officers what they were for!"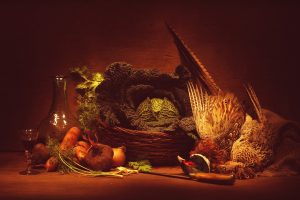 Pictured: Sergei said that he has to collect all kinds of bizarre items for his still life studies, including two pheasants which caused an interesting conversation with Customs.
With all items in the frame, the composition takes all his sense. Sometimes it is a celebration of natural beauty or of the passing of time, sometimes it is all about symbolism or a subtle nod to popular stories – like 'Once upon a time, in a far-away land' a photographic nod to Cinderella and her glass slipper. In all of them, light prevails, as though shining from the inside out, bringing to life what is still, fixed in a moment in time.
This article originally appeared in Connect magazine, which you can read by clicking here.